This is about my experience with grad school loans so far.
I am not a Certified Financial Planner or accountant or banker or lawyer or anything. I am a physical therapy student, that's it, and I'm just sharing my experiences and opinions and you should figure out for yourself what it means for your situation. Everybody's situation is different!
How I got Grad School Financial Aid
Complete the FAFSA (annually)
Complete all of my school's paperwork (done only once before I started school)
Went on studentloans.gov and did all of their paperwork, including a Master Promissory Note (done once when I opened up a Direct Unsubsidized Loan, and again when I opened up a Grad PLUS loan)
Got an email saying who my loan provider is (Great Lakes). I then created a username and password on their website, and this is how I can keep track of my loans on a regular basis
Continually monitor my credit to make sure nothing is being reported wrong and everything looks A-OK (I use Credit Karma)
Started paying them off almost immediately lol (I pay about $200 per month on the principal and I'll talk more about this later)
Graduate Loans and Interest Rates
There are 2 types of loans from the US Department of Education that I am aware of…
The interest rate for Graduate or Professional School Direct Unsubsidized Loans as of writing this (May 2019) is 6.6% and the interest is not capitalized immediately.
And for Direct PLUS Loans it's 7.6% and the interest is capitalized immediately (see What is Capitalized Interest? below).
I think the general consensus is that unsubsidized loans are for tuition, and the PLUS loans are extra additional money if you need it. These are both fixed interest rates for the life of the loan, however they can go up for later semesters. For example for my 1st, 2nd, and 3rd semesters of loans, the Unsubsidized interest rate was 6.0% and for my 4th, 5th, and 6th semesters it went up to 6.6% for those loans. So of course when paying back any extra amount on the principal, I will be applying it to the higher interest rate.
So how does interest work?
Whatever your loan amount is, the percentage interest is charged every year. So if your loan balance is 90,000 and your interest rate is 6%, for that year, you are being charged $5400 for the honor of owing this company money. And this continues for every year based however much you owe.
Graduate School Loans & Fees
Oh there were loan fees to initiate the loan, did I mention that? It varies depending on the provider I believe, but I think mine are 1%. This is a one-time fee and it's rolled into the value of the loan. So yay more money due! But at least it's not continually charged every year like interest is.
Making Extra Payments While in School
Should you make extra payments while in school? YESSSSSS
Like 100% yes. If you can at all manage to start making payments, you should. Unless you like more debt?
For my loan company, if I pay back within 120 days, it's the same as if I never took out the loan. In other words, I don't pay any loan initiation fees.
If it's past that date, you are required to pay back the interest first, you can't even pay back the principal at all until all interest is paid off (at least with my loan provider, Great Lakes).
Let me repeat that: within 120 days, it's applied as a refund and it's like you never took out the loans in the first place. If it's after 120 days since you took out that loan, you have to pay back all interest due BEFORE you can pay back any principle.
Making Payments After School
For me, my loans will first become due 6 months after graduation, which is also when the interest will become capitalized (see more about this below). I found out that my loan provider automatically starts students on a 15 year payment plan, which would lead to higher monthly payments. I asked them, and they said that I can switch to a 30 year plan, which would give me lower monthly payments, and I can choose whatever extra amount I want to pay.
If you are someone who likes to have more control over your finances like me, then that might be a good option for you. If you lack the discipline to make higher payments, then you might want to stick with the 15 year plan. Either way, it's good to know what type of plan they plan to put you on…..see what I did there?…..and if you can change it at all.
How I Handle My Loans
I am trying to keep my loans as low as possible.
Every semester, I have been offered about $10,000 of unsubsidized loans and about $10,000 in Direct PLUS Loans. I have not taken out any PLUS loans (well I did, but I paid almost all of them right back). The unsubsidized loans are enough to cover tuition, and sometimes it's a little bit more. One semester it was $500 more, another it was $1000 more, this semester it was around $1100 more. That extra amount is issued into my bank account as a "refund" lol. A refund that comes with interest. I usually pay back all of the refund, so I am taking the exact amount needed for tuition and nothing more.
For my living expenses and savings and paying back loans, I work so that money covers that.
Questions to Find Out or Ask Your Loan Provider
What type of loans do I have and how much?
What are my interest rates on these loans?
When are payments first due?
Will I automatically be put on a 15 year plan? A 30 year plan? Some other type of plan? Can I change the plan?
Is my interest capitalized? If not, when will it become capitalized?
Do I have to pay off all my interest first before I put extra money toward the principle?
Is there a window of time where extra payments will be applied as a refund?
Anything else you might think of 🙂
What is Capitalized Interest?
Capitalized Interest means that your interest is charging you interest. Lemme repeat that….
YOUR INTEREST IS CHARGING YOU INTEREST.
This is the most absolutely ridiculous thing I have heard of. It honestly should be criminal, and instead, the US Federal Government 100% supports this system.
Luckily, not every loan has capitalized interest right away. For example, my interest is not capitalized at the current time. It will be capitalized 6 months after graduation, which is also when monthly payments start being due. So that means that any interest that has accrued during school will be added to the principal of my loan, and will then generate even more interest. Absolutely criminal.
More on Making Extra Payments
The loan companies and even the US Federal government suggest that if you have extra money during school that you would like to apply to your loans, you should pay off your INTEREST. Say what????
This screenshot, taken on 05/08/2019, is from studentloans.gov, the Federal Government website on student loans.
Let's add one more column. Let's say this student was taking out this $15,000 over the course of 3 years or 9 semesters, which is what DPT school is. And making that same $1575 extra of payments as above, but applying it each semester to the principal, not the interest.
Now the total principal, even after the interest got capitalized, is $14,940. In the above scenario that the US Federal Government is suggesting, even after paying $1575, you still owe $15,000. Where is that money going? Back to the Federal Government. Not to your loan principal to actually help you pay down your loans. (Note: this only works if your interest is not already capitalized)
In this scenario by paying down your principal, your principal + capitalized interest went down by $60 less than the total amount you actually borrowed!
This isn't a huge amount, but imagine taking out $90,000 and think of the impact!
Well why don't I just show you?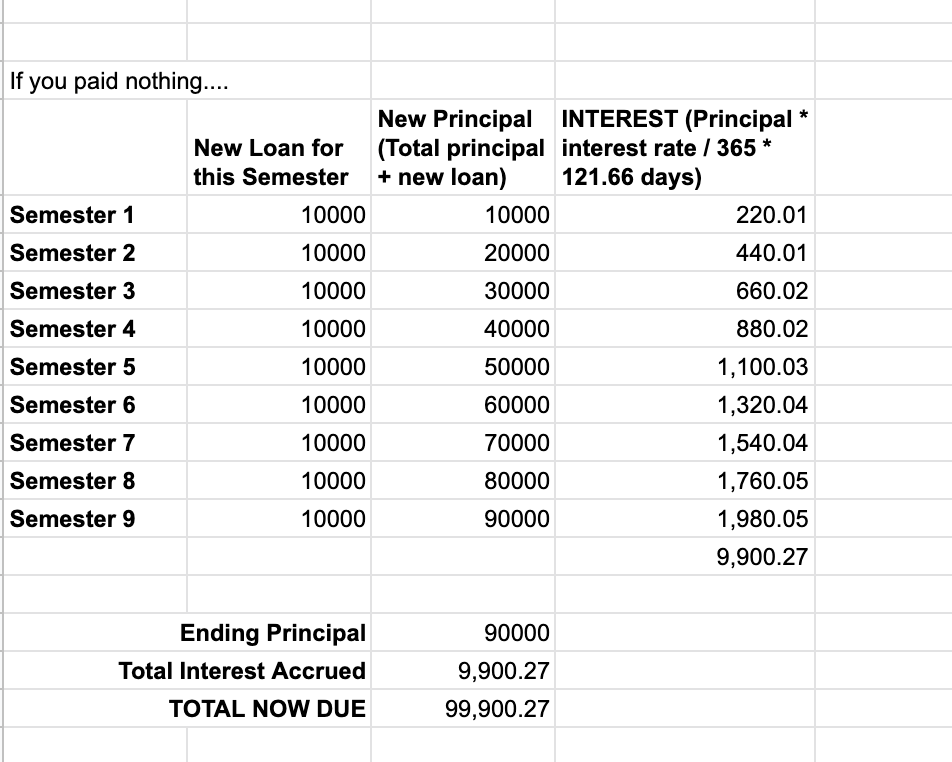 If you paid off that interest, you would be paying out $7425 and would now owe $90,000 total.
But let's say you paid that interest of 9900 over the course of the loan to the principal:
So paying the same amount of $9900, but applying it to the principal, you got $872 more applied to your principal!
(I'm sorry if my math is off a little)
But this is amazing!
To put it very simply, while in school, your interest is not charging you money. Your principal is. So would you put an extra payment toward something that is charging you money, or something that is not?
---
P.S.
Just for fun, let's see what would happen if you put it in a savings account at 2% interest…..
So in the 2% savings account, you still get 336 extra dollars to your principal, PLUS you get the added security of actually keeping that money in your possession for 3 years, in the event of some emergency, rather than paying it to these companies so they can get their interest back as soon as possible…..
Or just for even more fun, if you were to put it in the stock market and gain 11% — again I am NOT recommending this, this is 100% up to you and your decision and whatever you think is best for your situation, this is merely just to compare
You would be getting an additional $2004 dollars off your principal by investing that same 9900. But this is subject to market highs and lows so it has risks.
So in other words, loans suck lol. But thank you so much for reading, and again, this is not financial advice, it's just my experience, and please please feel free to contact me if you have any questions. 😘